Good Deal has the Buyers!
To Discuss how Ken can Sell Your
Home Fast and for Top Dollar
Call Ken Parker NOW at 760-951-9050!
Match a Buyer to Your Home Today - like eHarmony for Real Estate
Many agents say they have buyers, but we can prove it!
Through our exclusive marketing programs we attract over 600 new registered buyers EVERY MONTH - looking for homes on our website! We currently now have over 19,488 buyers (along with their contact information) actively looking for homes. Of the 19,488 there are between 787 and 1659 buyers who are looking for a home just like yours!
With our Exclusive Real Estate Match program, your home can be matched with one of our buyers, just like eHarmony for Real Estate!
Good Deal Has The Buyers.....We have over 19,488 buyers in our data base and over 3,828 Highly Qualified Buyers READY TO BUY NOW!
Our Homes Sell for up to 1% More... Our Homes Sell for 1% Higher than the Average Real Estate Agent which netted our Home Sellers in 2017 approximately $375,000 more in their pockets.
Your Home Will Sell up to 18%.... Faster - Good Deal Realty sells homes within 35 days and the average agent 50 days.
Your Home Is More Likely to Sell .... Ken Parker's team sells a Home, on Average Every 36 Hours!
Our Creative Options Could Get you More Than Market Value .... Ken Parker's creative options command a premium for your home!
---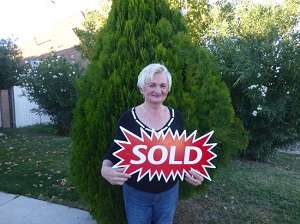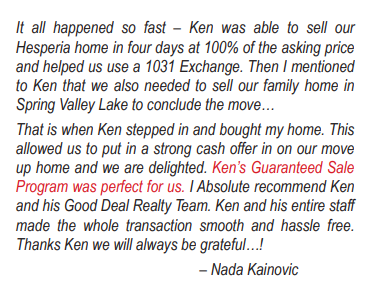 ---
To be matched to a buyer for your home, please fill out the form to the right.
Are You Stuck in a Home
you just Can't Sell? Well Ken has creative options that let you sell your home and move on with your life:
His creative programs can get your tens of thousands more for your home, even if you are upside down and without destroying your credit! Now every situation is different so call Ken today @ 760-951-9050 to find out the best solutions for you.
To Be Matched with a Buyer For Your Home TODAY...Please fill Out the Form on the Right